Creative Industry
Having finished an HND in graphic design at Amersham Art College in 1988 Mark went on to start as a junior designer for the creative department at Unipart in Oxford and was fast-tracked on to a project that saw him work with Lord Litchfield in the creation of an iconic design piece of the time when the famous photographer visited Russia to produce a glamour calendar behind the Iron Curtain. Read more about Mark's early career.
"I was a green 19-year-old junior designer surrounded by old school Soho agency types, all wearing black trousers and black t-shirts with very large Timmy Mallet glasses, juxtaposed with some of the world's most beautiful women. They were asked to stand in -20°C wearing basically nothing, while looking wistful and stoic at the same time. On reflection, it was hilarious and awful at the same time."
Following this rapid acceleration in the creative sector Mark went on to manage design agencies around Oxford for the next 14 years seeing the advent of both desktop publishing with the first Apple Macs being used in design before moving to Watford where he met his wife, Bekki.
Together they founded Aubergine in 2002 and have grown the business to a highly successful and award-winning agency today.
Web sector
Seeing the advent of the internet in business in the early 90s, Mark realised this was going to change the advertising and design industry beyond imagination. Being involved in some of the earliest eCommerce websites in the UK, Mark's experience in the online sector allowed him to provide practical, low cost website design and development at a time when websites were beyond the reach of most small business.

Always aiming to be out at the front with new advances in technology and analysis of online user behaviour, Mark in his role as Creative Director at Aubergine, helps clients improve their online presence through vast amounts of experience, knowledge and data amassed over 30 years.
This experience and knowledge has helped drive the business forward in growth and accolade with Aubergine winning multiple awards every year since 2015.
Awards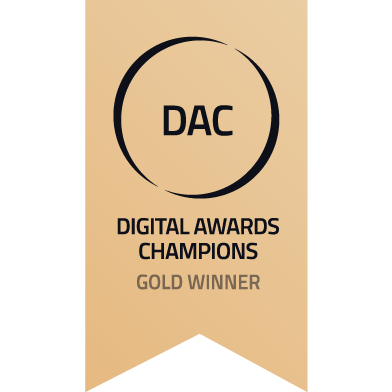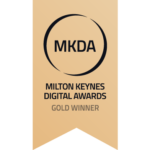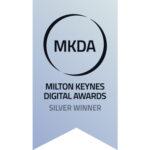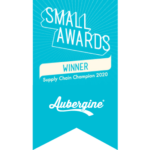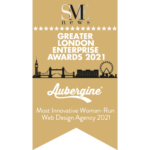 DAC Digital Awards Champions Gold Winner
MKDA Milton Keynes Digital Awards Gold Winner
MKDA Milton Keynes Digital Awards Silver Winner for  Best Retail Website
The Small Awards Supply Chain Champion 2020
Greater London Enterprise Awards 2021 – Most Innovative Woman Run Web Agency
Web accessibility
Driven by the awareness in 2018 of the website accessibility laws being required by all public bodies in England and Wales under the Disabilities Act, and a deep desire to expand on the principles of making online services available to all, Mark and the team at Aubergine invested heavily in learning new skills and how to bring accessible websites to the public sector and champion the need for greater awareness of accessibility on the internet. They continue to learn more each day applying new skills and experience to improve the online experience for those with disabilities.
Today, Mark speaks at events, webinars and to groups on best practice website accessibility in the public sector and for the SLCC (Society of Local Council Clerks), regional local council associations and beyond and is the author of the NALC (National Association of Local Council's) Website Accessibility & Publishing Guidebook for parish & town councils.
Teaching
Teaching is a fundamental part of the creative and web sector and sharing that skill, experience and knowledge ensures that it doesn't get lost and there's a wider understanding.
Mark regular speaks to university groups as part of digital course syllabus sharing commercial, best practice guidance for web user experience, Search & Google techniques as well as to business groups and those involved in Government and public bodies.
Types of events include webinars, lectures & seminars, annual conferences as well as podcasts and radio shows.
Mark is also a proud ambassador for Small Business Britain which supports small businesses across the country where he provides webinars and presentations on best practice website techniques for businesses to help them make best use of their online presence.
Training
Getting to grips with website accessibility as a parish or town council can be tricky. Regular training sessions can be provided over Zoom to help council clerks and website admin teams better understand the requirements and techniques needed to maintain good website accessibility for parish & town councils.